MAX, building by military specifications, inherited the delicate workmanship from ADHOC. Under MAX's low profile texture and frame outline, Max provides the complete functionality which gives user the best comfortability and highest stability.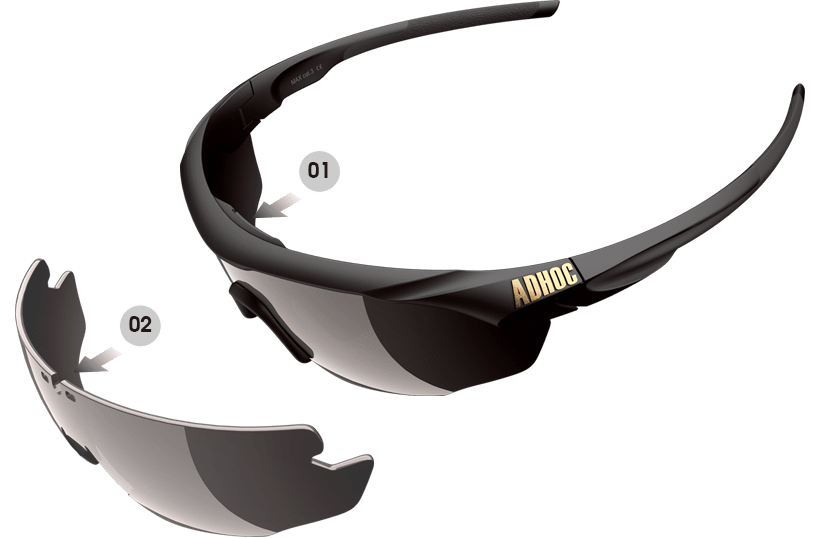 Patented i-PRESS Lens Switch System
The patented - Patented i-PRESS Switch System, can make users to change lens by needs only through one button.

| | | |
| --- | --- | --- |
| | | iF DESIGN AWARD 2018 |
ADHOC MAX, have get the iF DESIGN AWARD 2018.
It was aim to become the first sporty prescription sunglasses designed for speed and endurance sports, combine with ADHOC patented DSM (Direct Semi-Mask) RX System. DSM RX - utilize a pair of freeform optical lens. The DSM RX can fills a high range prescription up to -10 D for athlete to go with prescription lens without appearance affected. MAX DSM RX can provide a whole new vision experience of wider vision and comprehensive protection for the refractive errors user.

CSP Fog-Proofing Functional Lens
Lens fog is a dilemma for sport sunglasses, ADHOC Rx have a major breakthrough in lenses tech, a new CSP fog-proofing Functional Lens Series (Cross-season Protection, CSP), while providing Ant-reflection and Ant-fog function and the specification of EN168.
ADHOC create lotus leaf-like structure at the surface of lens by nano-bionic technology, to the formation of hydrophobic characteristics of the surrounding water vapor the release immediately, to reduce the function of mist production, with the lens ventilation hole design take away moisture quickly, can provide never recession and long - lasting lens anti-fog function, break through the weather and environmental restrictions, regardless of hot and humid sunny days or continuous drizzle cloudy, give users clear and unobstructed sight.
ADHOC MAX combines the ADHOC DSM RX, the prescription shield sporty eyewear, which provides function and fashion simultaneously. Users can inspire their super power and become an unbeatable warrior by wearing ADHOC MAX.
Custom optics fitting service number